Our last week in Sweden was very busy. After leaving Nynashamn, we made our way to Sandhamn. Sandhamn is a gorgeous island just east of Stockholm. It can only be accessed by boat. John Sjoberg of Sandhamns Kajakskola picked us up and took us to the island, which has a very relaxed feel. The small harbor area hosts a couple of pubs and restaurants. The following day we conducted a rolling class in the morning, and a strokes class in the afternoon. During the strokes class we wound our way around several of the islands in the archipelago enjoying the gorgeous scenery.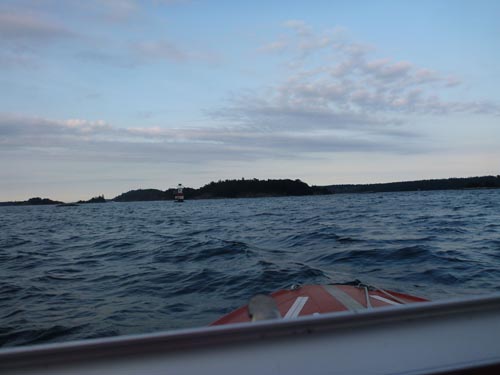 The ride to Sandhamn.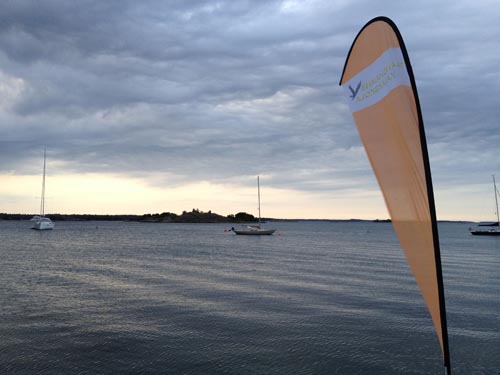 Although Sandhamn is very close to Stockholm, it feels secluded.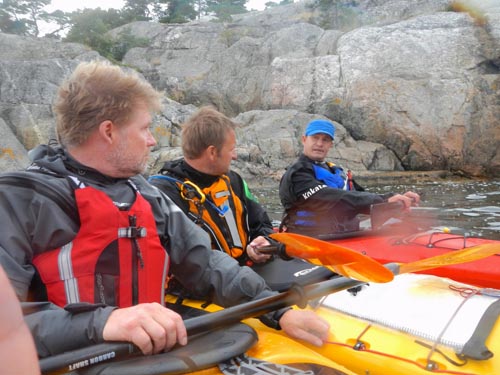 Mark talks about the forward stroke.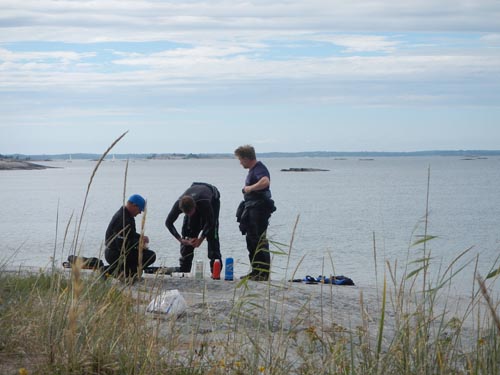 This sandy island was a great place to stop for coffee and cinnamon rolls.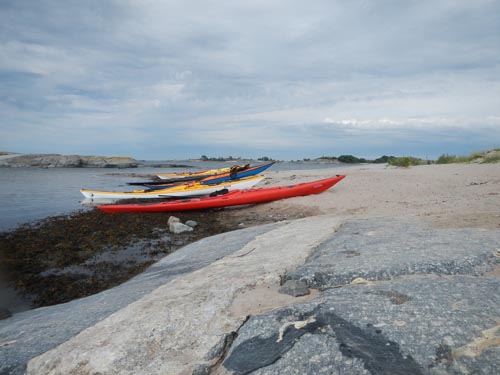 The archipelago can be very tranquil when the weather is calm.
The following day, John returned us to the mainland and we prepared for classes in Sickla that would take place in the morning. Although in distance, Sickla is not far from Sandhamn, it has busier feel, as it is very close to Stockholm's center. Classes took place through Sjostaden Kajak. Mark and I conducted two rolling classes and a rescue class, all of which took place on a small lake that is part of a chain of lakes that run through the area.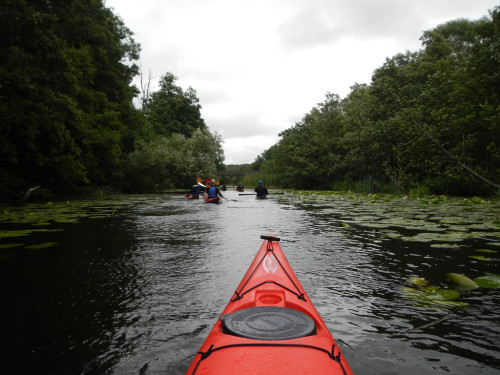 The paddle to the lake was very pretty with lily pads lining the narrow channel.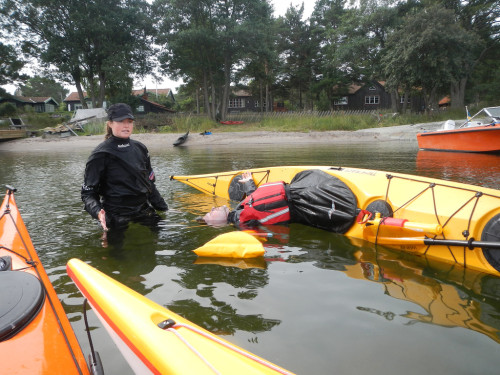 Rolling felt great in the warm lake.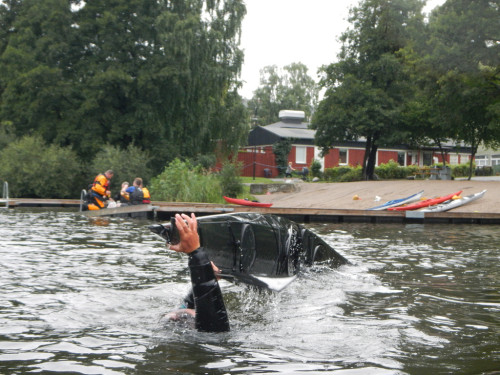 Mark demonstrates how to empty a kayak before performing a self rescue.
After teaching in Sickla, we made our way across Sweden for our last stop on the west coast. We arrived in Helsingborg and were greeted by Zsuzsanna, a lively and fun woman who organized our visit to Helsingborgs Kanotisterna. Upon arrival I was happy to realize that I'd been there during the first year of the Nordic Tour in 2010. I recognized the club and the active beach, which had lots of organized recreational activities for people to enjoy. The first day we taught two rolling classes, and the second day was filled with strokes, maneuvers and rescues in the harbor area.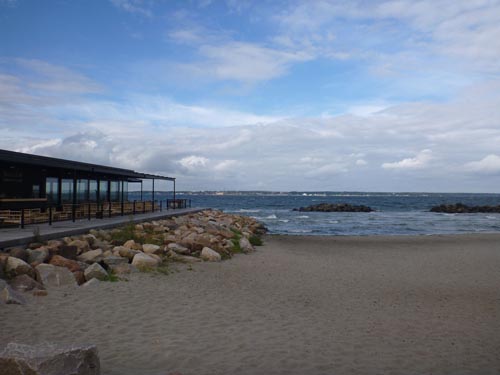 Helsingborg has a wonderful sandy beach, with great views of Denmark in the distance.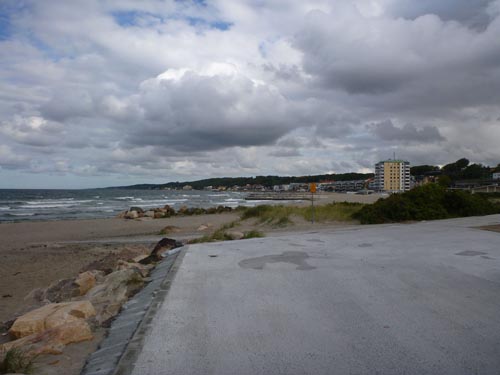 Strong winds and cloudy skies created a dramatic backdrop for Sunday's classes.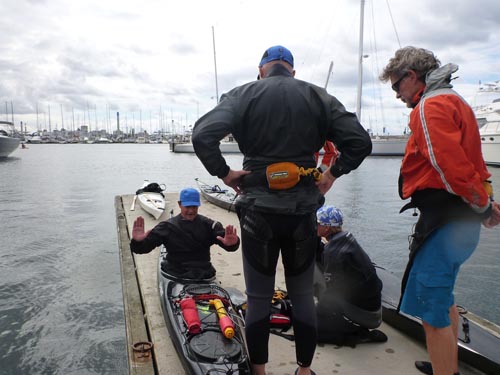 Demonstrations and activities on the dock provided a break from being on the water.
After leaving Helsingborg, we crossed the country one last time to return to Stockholm for our final day of classes before flying home. We met up with Karin and Martin of Ornsbergs Kanotsallskap. The following day we conducted a yoga session and a rolling class on another of Stockholm's gorgeous lakes. We enjoyed hanging out with Karin and Martin in the evening and learning all about the beautiful city where they live.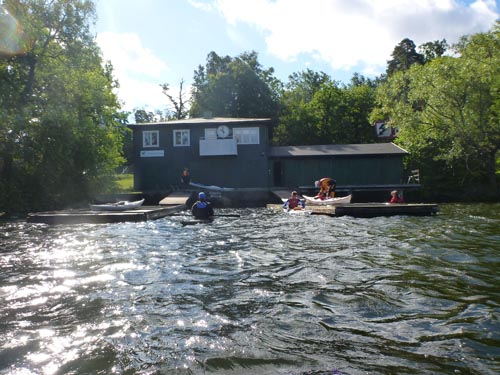 The kayak club is right on the water.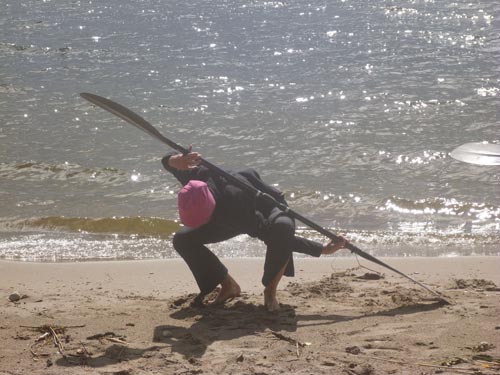 Paddle tricks provided a fun after lunch warm up.
We're now back home, and this year's tour is over. Thank you to everyone who helped organize it, and to all of the participants who came out to take classes from us. We're in the process of organizing next year's tour, and hope to see you all again!